DJRickyG had an insane blog about his childhood (and it appears, his
adulthood
)
obsession
with all things Mickey Mouse. Or, "Miki", as he used to tell his mama. I got an entertaining laugh out of that one but I also got to thinking about the question he posed about things that bring the child out in our old crusty selves.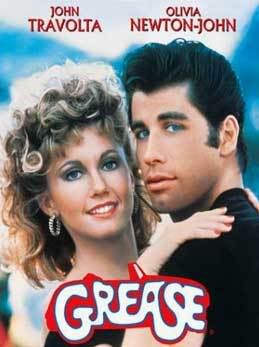 If there is one movie that I have seen over and over again and can never get sick of, its Grease. For the love of all things holy, that movie is my favorite. Just like I told Ricky, it gives me this giddy feeling that I can't seem to control. Just last saturday night when I went to pick up my kids at Grandma-mom's house and my little brother was watching Grease in the other room, I heard
Grease is the word that you heard its gotta groove its got feeling
and my mind instantly felt scrambled. I was still engaging in conversation with my family but my mind was on that movie!
I was six years old when it came out in 1978, and I can still remember my mom and dad taking us to the drive-in to see it. Back in the old days, the child-friendly movies played first, then the adults could watch their movies during the second feature. By that time the kids were supposed to be blissfully asleep in the backseat.
Snort
. I can go down the list of movies that I shouldn't have laid my innocent eyes on all while I was supposedly asleep in the shell of our yellow Datsun with hawaiian curtains that my mom lovingly sewed. We had a mattress back there so my little brother and I could lay down and sleep but we never did. Let me tell you, I saw Animal House, The Exorcist, One Flew Over the Cuckoo's Nest, Saturday Night Fever and Apocalypse Now, to name a few.
Well, not from beginning to end. I either closed my eyes and peeked through my fingers or my mom would check and see I was awake and she would make me sit up in front and lay my head down on her lap, where I would fall asleep. I think I received a majority of my sex education watching those movies I wasn't supposed to see. And any Latino can attest to that being the truth 'cause beaners don't sit their kids down and talk about the birds and the bees...you just walk in on mama and daddy getting busy ("
that must be why I have
so many brothers and sisters"
) or you watch R-rated movies.
But let me get back to Grease. My little brother Eric and I could sing all the songs. He loved Olivia Newton-John and I adored John Travolta. To this day if I hear
Summer Lovin'
, I get this excited, happy feeling go through my being. The dance scene where everyone does the hand jive and Danny ends up dancing with ChaCha DeGregorio...that is just
good times
.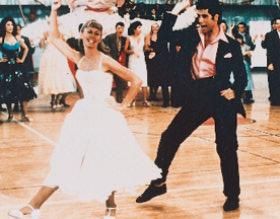 Oh, the bonfire scene where the Pink Ladies throw Sandy on Danny Zuco...ahhh, that is magic. The slumber party scene with the girls in their pj's drinking some wine with their twinkies, "Look at me, I'm Sandra Dee, lousy with virginity!" if that didn't make you want to grow up to be a hooch like a Pink Lady I don't know what else did. There were a few scenes that my mom just hated like any good mom would, like the make-out scenes, when Danny is doing his Grease Lightening dance and says the word
tits,
and my most favorite saying that my brother and I used to say to each other every chance we got, "Bite the weenie, Riz!" And who can forget the last part of the movie when Sandy comes out in that leather suit she had to be sewn into...and Danny sings, "I got chillllsssss, they're multiplyin'!"
That is the best part. I loved John Travolta in that letterman sweater, the baseball uniform, when he was wrestling in P.E., in his black pants, black muscle shirt and black leather jacket--anything would do because he was that gorgeous. I think he is the first actor to inspire lust in the precocious little six-year-old mind of mine. The scene on the first day of school where he's talking to this girl against the wall and he's got a cig hanging from those pouty lips and he is rocking those sideburns...oh, I love that scene. Michael hates it but I dig it--it was hot!
I think Grease just represents a time in my life when I was young, carefree, innocent, I still had two parents in the same house, my mom was home when I got out of school and everyday felt like summer vacation. Its a good feeling to have. I know I can always count on that movie to bring me back to that place.